Official Author Site of
Sylvia Engdahl

Now with Improved navigation to over 80 pages of information and essays about my books, space, medical policy, and more.


Flame Series now available in Kindle Unlimited

My two Flame series -- The Hidden Flame and the RIsing Flame, both the individual books and the "box set" editions -- are now available in Kindle Unlimited. (This new program allows borrowing up to 10 Kindle books at a time from Amazon.com for a fee of $9.99 per month. The author is paid according to the number of pages read.) With thousands of science fiction novels to read free in Kindle Unlimited, I feel it's unlikely that subscribers will buy a book by an author with whom they're not already familiar. For my adult novels to get new readers, it's essential that they be included.

The downside is that while enrolled in Kindle Unlimited a book cannot be for sale anywhere except at Amazon.com, not even the author's own website, and copies cannot be given away. (This applies only to digital editions; paper editions can still be sold elsewhere, and I still offer signed copies.) I've therefore had to withdraw the ebooks of the Flame series -- but not my other novels -- from all other retailers. You don't need a Kindle to read Kindle books; there are free apps for reading them on computers, smartphones, and most other devices. And of course, you don't have to subscribe to Kindle Unlimited. Whether you do or not, you can buy the Kindle books you want to keep. More information about ebook formats and availability can be found here.

My nonfiction book The Planet-Girded Suns: The History of Human Thought About Extrasolar Worlds is also available to borrow through Kindle Unlimited. Because on their KU promotion days books are shown at Amazon in lists where they are more easily found than by browsing the entire catalog, this means it is seen by readers who would otherwise never hear of it. During its recent promotion, it reached #1 in the Top 100 Free Best Sellers lists for both the "Astromomy & Space Sciences" and "Science History & Philosophy" categories.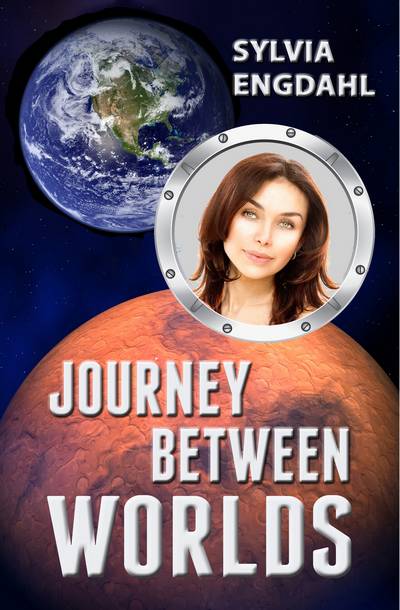 New ebook edition of Journey Between Worlds

This novel is categorized as science fiction because the story takes place on Mars, but it's not about technology or exotic adventure. It's mainly a story about human aspirations and human love. It has had two past hardcover editions and a paperback issued by major publishers, yet despite good reviews it has never reached the readers for whom it was intended. It was marketed exclusively as science fiction rather than romance, although avid science fiction fans aren't likely to sympathize with a heroine who doesn't want to go to Mars. It's enjoyed most by romance readers who may or may not be in favor of space travel, and who wonder whether in a changing world, there's hope for their descendants to find happiness. Space enthusiasts interested in Martian colonies also like the book, and they especially like recommending it to friends who don't see why anybody would want to live on Mars.

New covers for Stewards of the Flame, Promise of the Flame, and the Children of the Star trilogy

The books in the Hidden Flame series were recently given new covers to match the design of those in the Rising Flame series, and the cover of Children of the Star was changed. Those of the separate books in the Children of the Star trilogy were made more colorful when seen in a small size, but they did not prove very successful and have now been changed again, with large lettering that will stand out. (Also, the lettering has been enlarged on the covers of some of my other books' ebook editions, but not their paperback editions.) The interiors of the books have not changed.

Special sale: SIgned copies of paperbacks with the old covers can be obained from me at my cost (including cost of postage) as long as they last. The purchase form on the book description brings up these discounted prices -- if you want the current covers, add $5.00 in the "shipping" box.

Free ebooks to owners of paper editions: If you ever bought a new hardcover or paperback copy of one of my books (except Enchantress from the Stars) at Amazon.com you are entitled a free copy of its Kindle edition through the Matchbook program. The Kindle price will automatically show as zero on your account. If you bought a copy directly from me and would like an ebook copy, let me know and I will send you one.